i love sushi! i ate so much on saturday and it spilled over to today. it was insane.i wanted to puke. i couldn't watch shane eat a pizza it was that bad. got a burger today with shane and i was really full. again! i've also come to realize that i'm a horseraddish fan! so tasty with fries. mmm arby's anways say hello to the las vegas roll.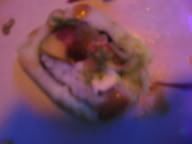 i dominated that in one bite...kinda.
it was a good weekend even though i was oh so lonely for most of the time. thanks to penny for making my belly full of raw fish and rice. thanks to shane for the burger and the endless entertainment watching you eat a pizza <3, thanks to jon choy for the fries and thanks to derek for the arby's melt. <3 eveyone! so so good. i probably won't eat that good till thanksgiving. in the event i get a job i will repay you all.
one thing i noticed about arby's. old people love it. there wasn't a lot of old people but there were a considerable amount. i mean grandma ate there. but they have good buns. i just want the bread.
i am and accessory whore!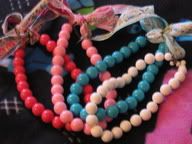 urban outfitters $1.99 in one point in life they were $18.99. i had a fashion moment in the store as well but i don't want to talk about it.